Riegel Entry No. 1, A Young Boy's Dream >
Pharm Phantasy Series
Hello Pharm Hands old and new,
Since my first visit to the Pharm in December of '61, I was compelled to record some of my feelings and thoughts about Michael, the Pharm and the pharm culture. That recording process however transformed into the writing of misc. stories and poetry. Michael's grandfather Deuel once told him to read and memorize Rudyard Kiplings poem "IF" and for some odd reason I did too and that was the start of the 'Pharm Phantasy' series of poems I wrote during the 60's, 70's and a few in the 80's. There were a few I gave to Michael and other Pharm pholks but most I just kept.
If you have any stories or pictures to share, be sure to send them to Scottyfurd, as he is doing a stellar job as Castle Conservator and perverter pervader of pharm pholklore. I know everyone sorely misses Michael and his stories of old and that's why we must not ever/never/ever let that culture decline or vanish.
Remaining an old Pharm Hand,
Ron Riegel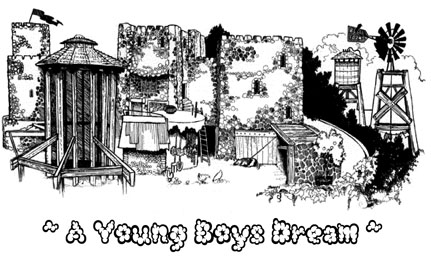 In days of boyhood reverie past
A young boy dreamed a glorious task
'Twas only day dreamed thoughts of child
But in his mind this vision filed.
Now that Michael is a man
His dream is more than just a plan
Although this man sized dream come true
He still does dream the dreams boys do.
Mortal man must always yield
To plow again in celestial field
Now heaven and earth both enriched anew
He'll forever dream the dreams boys do.
R.R. '62, '76, '07
Quotes of Harry (Grandfather) Deuel: "Shut up and dig",
"There is something wrong with everyone", "Plow deeper",
"Don't bore people with the truth", "How do we prove we
are not crazy?", "The greatest sin is to hurt someone
TOP OF PAGE | HOME to the SHRIEK Links
Next Ron Riegel Poem: Code Zero
What Is The Pharm, by Ed Keith | Artsy Photos
The Fox | The ROMEOs | Redd Ryder
SEE MORE GREAT PICTURES AND STORIES HERE | Rubel Pharm dot org
Now Famous in China