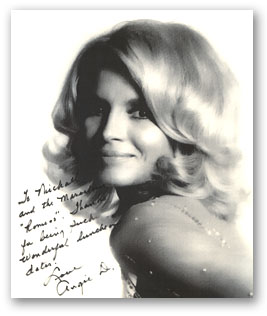 THE ROMEOS ?
Real Odd Men Eating Out
The club was started by a Dr. Chamberlain, M.D. (who had his office on the N.W. corner of Bennett and Glendora Avenues) and Heinz Rubel in the 1930's. Over the years there have been many members who lunched and gathered together. They gathered on many occasions up at the end of Pennsylvania Avenue in a screened in area which in later years belonged to Carl and Martha Gunn. This screened area, under the large oak trees, is still there [2002]. It is truly a most picturesque setting in this deep canyon.
To outline some of the members, which may be of interest, was Frank Brown, George Bettin, John Miller (Cotta Miller's husband), Carl Gunn, Lorne Ward, Frank Landon, George Baxter, Del Wilhite, Al Snidow, Sedley Peck, Charlie DeLacy, John Thum, Ken Kannard, Carl Moller, Karl Bauman, Earl Comstock, and Bill Lindbloom. There were many others I'm sure, however, these names come to mind.
Our present group carried on this tradition with about fifteen members. We primarily concentrate on laughter. This last week we laughed so hard the restaurant moved us back to a deserted area. It is the high for the week for many of us. Mary, my wife, is happy to get me out with the boys each week and I really enjoy it.
If Dr. Bowen will share with you some of our honored guests, he has our permission, but I do not feel free to reveal these because we have a traditional of avoiding "name dropping."
You may get the present regulars from Michael Rubel if you like, but there again, he will have to get everyone's permission. The reason we have these rules is that one time one of our guests was revealed and we were mobbed when we went to lunch. We decided to be reserved about our events after that fiasco. Hopefully this will answer your question concerning our group. Warren Asa brought a cartoon executive from the east coast and he did a cartoon about us. The waitress he mentioned in his cartoon is a real waitress named laura, who recently had a baby. The baby is no relation to anyone in our group, let me add.
Yours, Clarence Butz
P.S Angie Dickinson took the ROMEOs to lunch. She is incredibly charming. 2002.
---
HOME to the SHRIEK Links | The Reservoir a Fallout Shelter?
The Fox | Red Ryder
The Gate - by Ted Shepherd
SEE MORE GREAT PICTURES AND STORIES HERE
What is the Pharm?
The Pharm is also you, more than ever, please become a member of the Glendora Historical Society. Click here and retrieve the pdf application and mail it in.