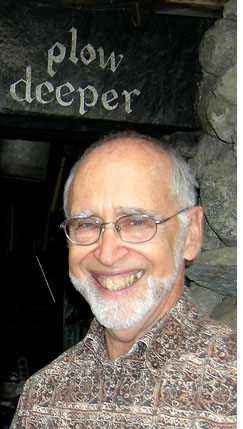 Happy Birthday Glen Speer
When Michael Clarke needed something built to look good...
When he needed to know how to make something that took a design...
When he was tired of lifting stones to prove his manhood...
And to see if in real life "Build it and they will come…" held for all dreams...
And he just wanted a friend to talk with whose words he treasured...
Glen was there drinking tea or wine and crafting thoughtful words.
When I built that orange crate bookshelf
whose base and bottom were unequal sizes, Glen, instead of laughing, asked if I wanted to build a staircase.
"I'll show you how," he said.
The recycled mine shaft planks were turned into a majestic stair case wrapping the old oak tree and a deck with sunken barbecue pit and swimming pool and grew to gutting and rebuilding a tree house.
And so much more was Glen there for, always simply saying or doing "I'll show you."
And when he left for the Virgin Islands we all felt "Glen would show them."
While Glen in his Woody Allen manner was worrying, "Can I frame windows correctly for my boss?" And even there, when I came to 'help' get his company going Glen was there to continue teaching me to build. When I could barely get walls up on a tool shed The gentle "I'll show you" would echo in the Caribbean air.
Douglas Weakly liked referencing the quote, "The world is filled with talkers and doers. The castle is full of doers."
Glen epitomized the best of talking and doing.
Happy Birthday Glen.
So many of us in this world would be poorer in words and deeds without having been blessed with your company. —Dwayne Hunn
TOP OF PAGE | HOME to the SHRIEK Links
What Is The Pharm, by Ed Keith | Artsy Photos
The Fox | The ROMEOs | Red Ryder
SEE MORE GREAT PICTURES AND STORIES HERE | Rubel Pharm dot org
Now Famous in China